Movie/tv News
The 8 Best Need For Speed Games (& 6 Best Midnight Club Games) Ranked According To Metacritic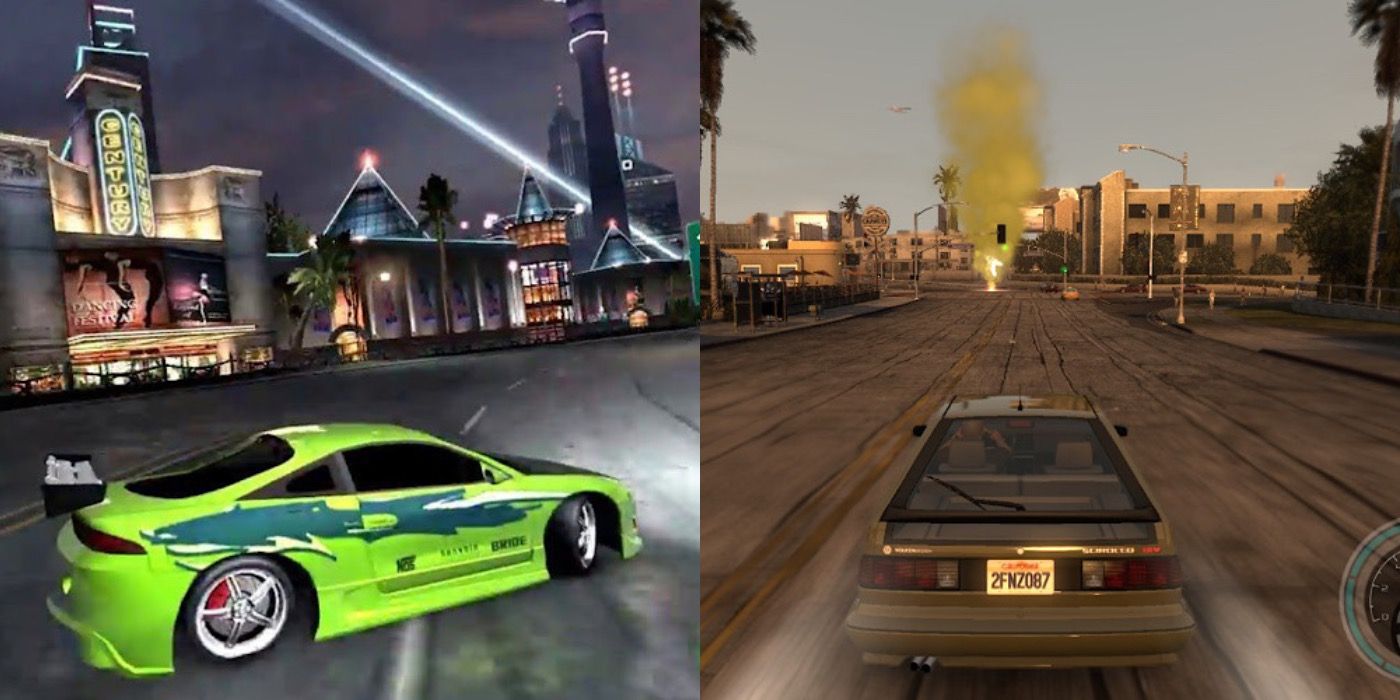 There might have been many terrible racing games released for consoles over the past 20+ years, but there have been just as many incredible ones—whether it's the Gran Turismo series or the Forza Horizon games—but few have been as competitive as Midnight Club and Need for Speed. Midnight Club might not be in contention for the best Rockstar game, but it had a major influence on racing games that came after, just as Need for Speed did.
RELATED: Every Major Sports Gaming Franchise, Ranked From Worst To Best
But neither of those series have hidden the fact that they are so influenced by each other, whether it's Need for Speed having been inspired by Midnight Club's open worlds or Midnight Club taking cues from Need for Speed's in-depth customization skills. Though Need for Speed might lack Midnight Club's quality consistency — EA had at one point turned the series into an annual event — the series still arguably has the better games than Rockstar's only racing franchise.
Updated on September 29th, 2021 by Kevin Pantoja: With franchises as well established as both Midnight Club and Need for Speed, that means it's important to look deeper than usual to see which installment is actually the greatest. Finding the best Need for Speed game can be tough since there are so many, while Midnight Club only has a handful that were met with critical acclaim. These racing games have spanned several generations of consoles, yet they still often go overlooked when discussing the biggest successes on each platform. Metacritic is typically the best place to check and figure out what the consensus is for the best games for each franchise.
14

Need For Speed: Underground 2 (2004) – 82
Coming just one year after the groundbreaking Underground, Underground 2 made the game even bigger by creating its own fictional open-world city, Bayview, which was based on Beverly Hills, New Jersey, and Las Vegas, among others. This aspect of the game was a big improvement on the first Underground, which had extremely limited and tight street courses.
The game also had some exciting new game modes, but Underground 2 ultimately didn't fare quite as well as its predecessor due to a lack of innovation in terms of control and presentation.
13

Need For Speed: Most Wanted (2005) – 83
By this point in the series' timeline, open-world Need for Speed games had fully become annual events, as they were hugely successful and the quality was still consistent. But Most Wanted made a ton of exciting advancements that borrowed from the older games of the series and introduced modes that had never been seen before.
Most Wanted was set in daylight, there was a fully fleshed-out story, and the series brought back police chases. When players were pursued by the cops, they'd have to hide in dark areas to escape, and this fit in the Need for Speed world perfectly. But above all else, the vehicle handling was finally fine-tuned, which is what critics and fans had been wanting for years. It was far superior to some later installments that got lackluster reviews.
12

Midnight Club: Street Racing (2000) – 78
Midnight Club: Street Racing brought arcade racing to the Sony PlayStation, as it first merged exploration and racing by featuring not just one open world but two. London and New York City were rendered fairly well, especially for the time.
RELATED: The 10 Best Video Game Movies, Ranked By Letterboxd
However, as the races were based on getting from checkpoint to checkpoint in the quickest way possible, it was more fun than driving along a singular track. On top of that, computer opponents had never had more personality in a racing game, as they would taunt players throughout the races, and every single boss was so overly obnoxious, albeit equally hilarious in their banter.
11

Need For Speed: Underground (2003) – 85
With the release of Need for Speed: Underground, it was the first time EA would use the series to take advantage of the huge street racing interest that was generated by The Fast and the Furious. The publisher dropped the supercars that the series had focused on for so many games and switched it up to Japanese imports.
Underground put a huge emphasis on vehicle customization, which became a staple of seemingly every single racing game that was released in Underground's wake. The game was massively stylish, and though it wasn't open world, a lot of effort was put into how glossy the circuits looked. Interestingly enough, Underground went on to inspire the Fast & Furious games.
10

Midnight Club: L.A. Remix (2008) – 79
In 2008, the well-received Midnight Club: Los Angeles was given a version that came out for the PlayStation Portable. In a lot of cases, iterations for various platforms aren't separated but this was actually something of a different game.
RELATED: 10 Iconic Video Game Characters & Their MCU Counterparts
Only a smaller portion of Los Angeles was available to explore in Midnight Club: L.A. Remix for the PSP. They also made sure to add Tokyo as a second playable city, which allowed things to truly feel different from the main console version — but still be something engaging and fun on its own.
9

Need For Speed: Most Wanted U (2013) – 86
In a lot of ways, some fans forget that Need for Speed is still a franchise that releases games. There's no denying that the heyday of the series had come and gone, but some of these later games have been well-received, with the most recent to score over 85 coming in 2013.
Need for Speed: Most Wanted initially arrived in 2012 for multiple systems, but 2013 saw it get released on the Nintendo Wii U. This installment was made unique by taking advantage of the Wii U gamepad, including a co-op mode and even supporting Off-TV Play. Throw in secret Nintendo vehicles for Mario, Peach, and Yoshi, and this is a winner.
8

Midnight Club: Los Angeles (2008) – 82
Midnight Club: Los Angeles marks the biggest departure the series has ever seen, as, instead of having several different open worlds based on major cities from around the world, Los Angeles is based in one location only. Coincidentally, this wouldn't even be the first time Rockstar Games would use the West Coast setting, having utilized it before in their Grand Theft Auto series.
Los Angeles was also the first game in the series to feature a narrative, and it was fairly grounded in its gameplay compared to the arcade style of its predecessors. In fact, Midnight Club: Los Angeles is a completely different game, and it probably shouldn't have the MC title. However, critics still loved its sleek sheen but generally admitted it didn't hit as hard as the previous games.
7

Need For Speed III: Hot Pursuit (1998) – 86
The Need for Speed franchise debuted in 1994 and the original game was pretty well-received.  The sequel got even better reviews before the series really hit the nail on the head with the third entry, Need for Speed III: Hot Pursuit. This changed almost everything fans had come to know about the games for the better.
This version added Hot Pursuit mode, which would remain a staple in most games going forward. With it, typical races were interrupted by police officers who chased players down as they sped through the streets. Reviews for this game were sparkling and it was a great way to pivot and avoid being too similar to Gran Turismo.
6

Midnight Club III: DUB Edition (2005) – 84
The was a big leap in authenticity between Midnight Club II and Midnight Club III: DUB Edition. All of the vehicle models in the second game were based on real cars, but as Rockstar didn't have the rights to name them after the real brands, they all had fake names.
However, in DUB Edition, all the cars were now official vehicles. On top of that, it was also the first time the series allowed players to customize their vehicles, and though it was clearly taking cues from its competitor, Need for Speed, the customization in DUB Edition was far more in-depth.
5

Need For Speed: High Stakes (1999) – 86
Being such an early game in the series, High Stakes was basically the blueprint for what would eventually become the Underground series. High Stakes is one of the best racing games on the original PlayStation, as it has certain light RPG elements in which players decide whether to use their credits to purchase a new car or customize their current one.
There are even pink slip races, which was a gaming element that the street-racing game Juiced based its whole concept on and one that became pretty popular in the Fast & Furious movies.
4

Midnight Club II (2003) – 86
With Midnight Club 2, the series continued to feature international cities, as the game takes place in not only Los Angeles but also Paris and Tokyo. The series went full throttle with the arcade racing, as players could even drive up the Louvre pyramid and jump over the building, and there are so many other hidden fun details about the three cities, as there's a heavy emphasis on finding shortcuts in races.
The game also introduced 3D animated characters, as the bosses were nothing more than text boxes in the first game. There was so much depth to the cities, loads more vehicles to choose from, and the game even introduced motorbikes. But best of all, though it's quite the gaming feat, if players complete 100% of Midnight Club 2, then they'll unlock the SLF450F, which was basically an unlicensed version of the Batmobile.
3

Need For Speed: Hot Pursuit (2010) – 89
2010 saw the Need for Speed franchise go back to the aforementioned Hot Pursuit gimmick that made it so successful in the past. Seen as a reboot of sorts, this version hit the PlayStation 3, Xbox 360, and many other platforms, having a similar setup and premise but with the updated graphics and gameplay elements of the time.
With fantastic tracks in areas based on the Pacific Northwest and the added ability to play as one of the police officers chasing down racers, that made this a blast of a racing game. Hot Pursuit was met with widespread acclaim for almost every aspect and a remastered Hot Pursuit version was released several years later.
2

Midnight Club III: DUB Edition Remix (2006) – 87
Ultimately being an expanded version of DUB Edition, which came a year before, DUB Edition Remix has so much more content than any other expanded release of that generation. The game not only includes an added 26 licensed music tracks, taking the total to 124, and 24 new vehicles, but it also includes the new city, Tokyo, which is a massively updated version of the one found in Midnight Club II.
The Midnight Club series was never just about racing but aesthetic, and given the four cities, all of the vehicles, and the musical mesh of hip-hop, rock, and dance, Remix is the ultimate Midnight Club experience.
1

Need For Speed: Hot Pursuit 2 (2002) – 89
After the success of the PlayStation 1 original, a sequel arrived titled Need for Speed: Hot Pursuit 2 for the PlayStation 2. It basically took whatever worked in the first game and managed to deliver the goods again, just with a few upgrades and improvements this time around.
The game is unabashedly fun, as it's a lot less about beating other racers and more about evading police in extremely lengthy courses. The game was so well-received that it won several awards and actually holds up well almost two decades later.
NEXT: 10 Best Movies Based On Arcade Games, Ranked By IMDb

Next
10 Strongest Fossil Pokémon

Share this news on your Fb,Twitter and Whatsapp