USA
Rivian is America's biggest IPO since Facebook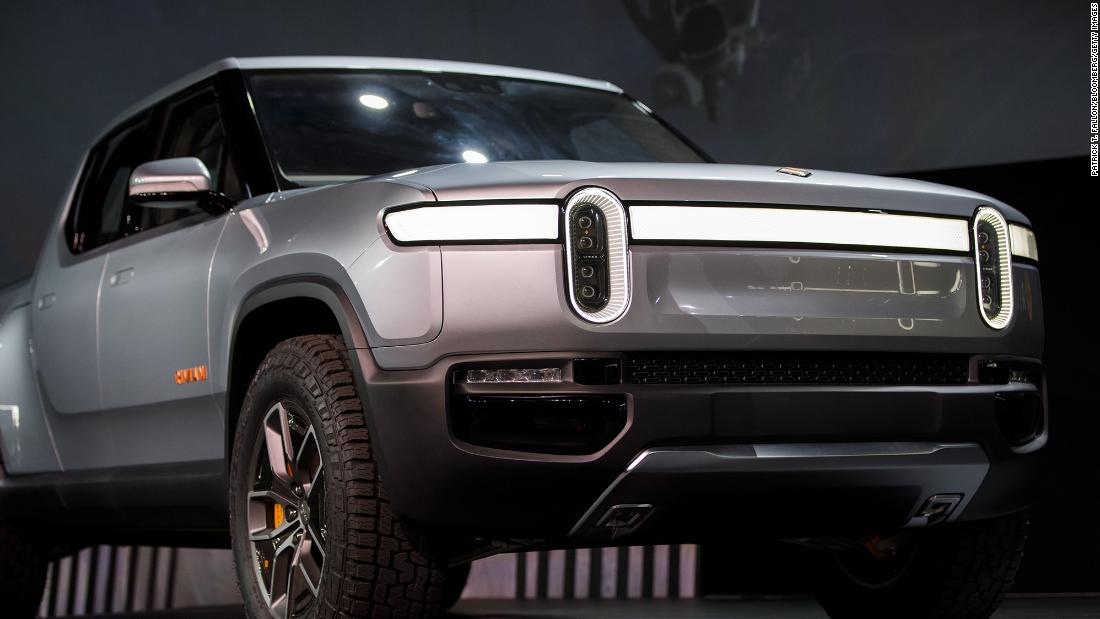 What's happening: The company priced its stock above the expected range at $78 apiece, allowing it to raise an estimated $11.9 billion. That's the biggest haul for a US firm since Facebook brought in $16 billion in 2012.
The initial public offering is the largest globally of the year, and the 12th largest listing ever, according to data provider Refinitiv.
Shares started trading at $106.75, a 37% leap, before closing the day up 29%. That valued Rivian at almost $86 billion, more than both General Motors, which has a market value of $85 billion, and Ford, whose market cap is $80 billion.
The only automakers Rivian is trailing are Tesla, Toyota, Volkswagen and Mercedes-Benz owner Daimler.
There is a huge market opportunity as the world tries to wean itself off its dependence on fossil fuels. According to the International Energy Agency, there were 10 million electric cars on the road at the end of 2020. By 2030, that number could reach 145 million or higher if governments meet ambitious climate targets.
Investors see Rivian as a prime candidate to cash in on this shift. The company has a deal to deliver 100,000 vehicles to Amazon by 2025. It could try to secure agreements with other logistics companies, too.
"Rivian's order flow and backing from Amazon are key validating signals for investors," said Asad Hussain, senior emerging technology analyst at PitchBook.
But Rivian is far from a mature company. It only started producing and delivering vehicles in September (yes, two months ago). And it faces huge challenges to scale up manufacturing in an environment that's confounding even the biggest players.
The company's valuation "implies a ridiculous amount of production" over the next decade, David Trainer, the CEO of research firm New Constructs, told me.
Rivian needs to produce well over 1 million vehicles by the end of the decade to justify its rich valuation, according to Trainer. Tesla, which started production in 2008, delivered just under 500,000 cars last year.
"It's taken Tesla over a decade to get to a level that Rivian is supposed to double," Trainer said.
The takeaway: The market is flush with cash as a result of unprecedented stimulus from central banks and governments. That's helped drive market indexes to ever higher peaks and produced a record year for initial public offerings as investors search for new places to park their money. But amid all the euphoria, it's important to keep an eye on the fundamentals.
Is this the biggest spike in consumer prices since 1990?
Prices for consumers continue to push higher, frustrating shoppers and worrying the policymakers tasked with keeping inflation under control.
Just how significant is the problem? Fresh data out Wednesday showed that over the past 12 months, prices climbed 6.2% — the biggest increase since November 1990.
The elevated CPI reading could undermine the Federal Reserve's insistence that the phenomenon is transitory and will recede as pandemic-related disruptions ease.
"Our core view remains that the underlying supply-demand imbalances will, as Chair [Jerome] Powell said last week, largely work themselves out, leaving inflation near the Fed's goal," Goldman Sachs strategists said in a note to clients this week. "But it is now clear that this process will take longer than initially expected, and the inflation overshoot will likely get worse before it gets better."
Stores could choose to pass those higher prices on to shoppers so they don't lose money.
The end of an era for an American business icon
The company announced Tuesday that it will split into three separate public companies, spinning out its aviation, healthcare and energy businesses. Investors applauded the move, sending its stock up 2.7%.
At its peak in early 2001, GE's stock was worth more than $500 billion, making it one of the most valuable companies on the planet. But the 2008 financial crisis dealt a body blow to GE Capital, and the company made a disastrous bet on the fossil fuel industry when the world was turning toward renewable and cleaner energy solutions. GE has had to sell off assets to clear its enormous debt load.
What's left of the company is worth just $122 billion.
The powerful conglomerate could rise again. But for the moment, at least, it's decidedly out of fashion.
Up next
Also today: The US Consumer Price Index arrives at 8:30 a.m. ET.
Coming tomorrow: Earnings from Tapestry, Weibo, Yeti and Lordstown Motors.
— Chris Isidore contributed reporting.
Share this news on your Fb,Twitter and Whatsapp